Pan Pastels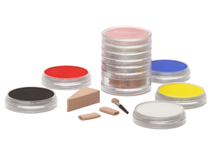 PanPastel Colors are professional artists' quality soft pastel colors packed in a unique pan format. The special qualities of PanPastel Colors mean that artists can blend and apply dry color like fluid paint for the first time.
Each color is loaded with the finest quality artists' pigments for the most concentrated colors possible. The colors have excellent lightfastness and are fully erasable. Uniquely, for pastel color, they can be mixed together for a complete painting palette.
Please Note: This product is available in-store only. In-store selection varies by location.