Princeton Catalyst Art Tools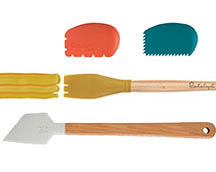 Catalyst tools are designed with flexible silicone to allow artists a new form of expression. The Catalyst Tool series includes sets of Wedges, Blades and Mini-Blades. The Wedges are ergonomically designed to fit in your hand, allowing a direct interaction with your work. Blades are mounted on wooden brush handles, making it easy to blend tradition and innovation. They are designed for use with heavy-bodied paints but are also at home with oil, acrylic and water-mixable oils. The heat and solvent-resistant materials allow these tools to excel with encaustics, plaster, clay, and food crafting.
The silicone design makes clean-up a breeze. In most cases, you'll only need mild soap and water. You can even peel dried paint off the surface. No matter the medium or surface, it's easy to create a masterpiece with Catalyst tools.